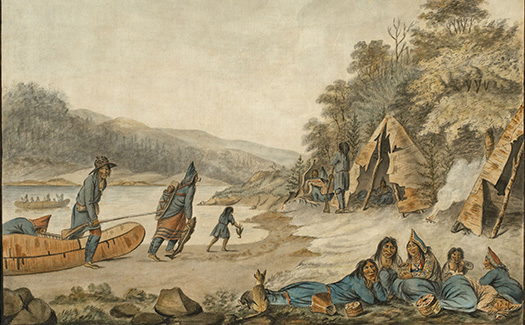 Nova Scotia Museum, Binney 1979.146.1
Fisheries Museum of the Atlantic
Welcome to the Fisheries Museum of the Atlantic where you can explore the rich fishing heritage of Nova Scotia.  Our newest exhibit "First Fishers" invites you to explore the history of the Atlantic Canadian fishery from the earliest days of the Mi'kmaq to today.
​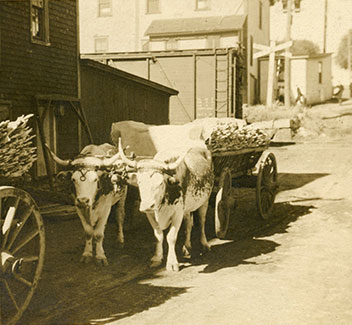 Bill Bonyun
In 1936 Bill Bonyun arrived Lunenburg determined to write a great novel. He talked his way onto the schooner Arthur J. Lynn and was hired as "flunky's assistant". Many friends were made and many pictures were taken, including this photograph of oxen hauling salted cod on the Lunenburg waterfront. Though the book was never finished, Mr. Bonyun went on to have a notable career as a collector and performer of New England folk music. This year, the Fisheries Museum of the Atlantic welcomed Mr. Bonyun's original photo album into the Provincial Fisheries Collection.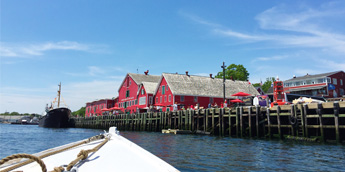 Fisheries Museum of the Atlantic
The Fisheries Museum of the Atlantic provides the ultimate waterfront experience, in Lunenburg, Nova Scotia, a UNESCO World Heritage Site. While at the Museum, you experience life in a fishing community and discover, up close, life at sea.
Explore our living fish exhibit and wharf-side vessels. Make your way to the Ice House Theatre, where films are shown throughout the day. Browse at your leisure or take a guided tour. Come rain or shine, relax and enjoy! The entire family will enjoy their entertaining visit with us!
Please note
Our touch tank has closed for the season.

Group Tour Programs
Daily programs available May through October, including lobster lore, a model boat launch and more.
Salt Store Gift Shop
While at the Museum or just shopping around town, be sure to check out the Gift Shop where you will find an array of current fashion and giftware for the entire family. Salt Store Gift Shop.

Hours
We are open for the season daily from 9:30 am to 5 pm. 
Beginning Oct. 13 our hours of operation will be 9:30 am – 3 pm daily until Oct. 31 when we close for the season. Please note the two museum vessels will not be accessible during this time.
Contact
Fisheries Museum of the Atlantic
68 Bluenose Drive,
P.O. Box 1363
Lunenburg, Nova Scotia,
Canada
B0J 2C0
Telephone: 902-634-4794
Toll Free 1-866-579-4909
Fax: 902-634-8990
fma@novascotia.ca
Be social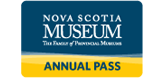 Unlimited Visits
Come for an hour or stay for the day.  The choice is yours with a Nova Scotia Museum Annual Pass.