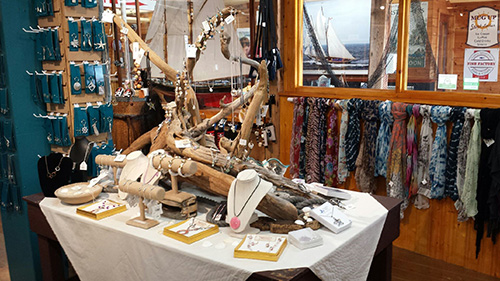 The Salt Store Gift Shop offers an exciting array of items attractive to every shopping desire and budget. Located at the entrance to the Museum, it occupies the first floor of the oldest building in the Museum complex. Originally built by W. C. Smith and Company Limited in 1899, the structure was used as a salt storehouse for the fishing industry, as well as a warehouse and cooperage.
Hours
Reopening June 1, 2021. We look forward to seeing you!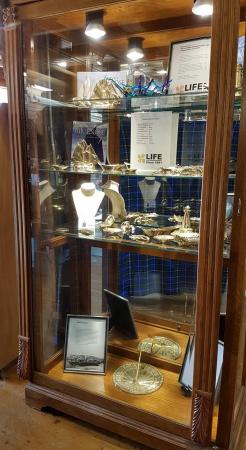 We are pleased to now offer beautiful items produced at LIFE (Lunenburg Industrial Foundry & Engineering). These unique items make wonderful gifts and mementos. Come in and see our selection. 
The Salt Store Gift Shop reflects the nautical nature of the Museum, with a wide assortment of items to satisfy the most discerning shoppers and travellers of all ages. Items include:
Books for all ages
Clothing & Accessories – including Tilly hats, jewelry & scarves
Home decor gift ware – including local Amos Pewter, Christmas decorations & paintings by local artists
Children's clothing, toys & accessories
Food & beverage products – including maple products, local Terra Beata Cranberry products, Van Dyk's Blueberry Juice, large candy selection & other Canadian products
Souvenirs – including works from local musicians
And much, much more in each section! The store accepts US currency, Visa & Master Card. 
CAA/AAA 10% discount
Dory Mate 10% discount