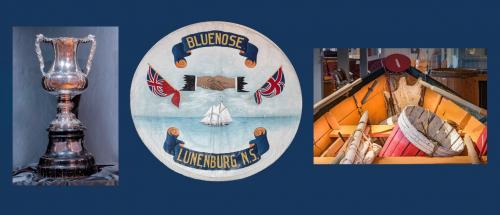 Program Highlights
This program offers a jam-packed interactive activity-based experience.
It aligns with the grade six social studies curriculum outcomes on how our resources impact our traditions while creating a pride of place.
Curriculum Outcomes
By using a student-centered learning approach, students are provided the opportunity to discover how fishermen used simple machines to lighten their work load while harvesting our ocean's natural resources.
Bluenose had a diverse three-way career, a wonderful example of how our forefathers used this vessel to her fullest potential. This diversity was paramount to Bluenose becoming part of our cultural fabric. The program is object based, offering self-directed, hands-on activities that will engage students in the wonder of Bluenose.
Program Length
90 minutes
Capacity
35
Cost
$4 per student
Activities
3 minutes: Introduction
The students will gather by the wharf side red bell buoy and learn the lay-out of the program. The program starts with the entire class participating in the model Bluenose launch demonstration. Then the students split into two groups: one groups goes aboard our retired fishing schooner, Theresa E. Connor to learn about the fishing career of Bluenose. The remaining half of the group will head to third floor to discover Bluenose's other two careers: racing and show boat.
12 minutes: Model Bluenose Launch
The purpose of this activity is to the students learn about the birth of this Canadian icon. This is a demonstration that gets the entire class involved – loud cheering is a MUST!
30 minutes: Bluenose as a Fishing Schooner Activity
The purpose of this activity is to have the students step aboard the Theresa E. Connor and learn about the fishing career of Bluenose. To see the simple machines used to make this labor intense job a little lighter. This activity is also intended for the students to think about how technology has changed the fishery.
15 minutes: The Race Timeline Activity
The purpose of this fun self-directed activity is to have the students learn using images about Bluenose's racing career.
15 minutes: The Show Boat Match Game
The purpose of this activity is to showcase the uniqueness of a fishing schooner also being a show boat. This activity is led by the students, they will have to work together to have success.
Availability
May 20 , 2023 to Oct. 14, 2023
Information and Reservations
In the off-season, we recommend calling to confirm availabilities of school programming. In addition, we can explore developing a customized product upon request.
To reserve your program please call Hilda Russell at 902-634-4794, ext.228 or email Hilda.Russell@novascotia.ca