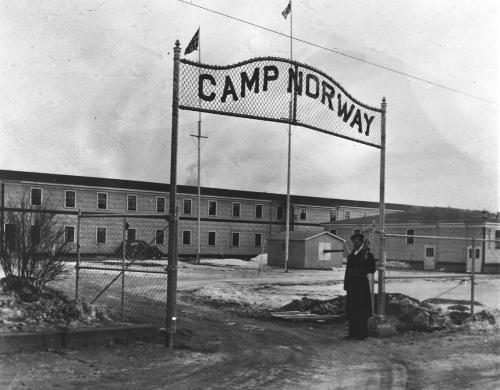 As Remembrance Day approaches, the time comes to pay our respects to all those who worked towards our freedom of speech, religion, and assembly. It is a time when some may be reminded of Lunenburg's wartime connection to Norway.
Many locals are familiar with the drug store Kinley's, located in Lunenburg.  But how many know of its connection with Camp Norway, the very same connection with Lunenburg's youngest mayor?
The time was the Second World War, the deadliest conflict in history. The Nazis are conquering and working to control much of continental Europe.
It's 1940. Norway is invaded. The message comes across the airwaves that all Norwegian ships were to head to Allied ports, it was no longer safe to head home. Halifax was an Allied port. Roughly 2000 Norwegian sailors arrived.  
Fear of Nazi spies was high. This prevented anyone from coming ashore. The Norwegians could only leave their ships under the condition that a camp, funded by Norway, would be built. But Halifax was not a suitable location for such a camp. A successful plan was drafted by MP John James Kinley. He offered his electoral district and hometown of Lunenburg.
In September 1940, Lunenburg became home to the crews of 17 Norwegian whaling vessels (whalers). Upon arrival, the Norwegians first stayed at the Lunenburg Curling Club. Construction of the barracks began in October and was completed in just six weeks. Camp Norway was officially home to these Norwegian sailors as of November 17, 1940. Both the Union Jack and the Norwegian flag were flown.
Over the next three years these men were joined by other Norwegians. Their whalers were converted into coastal escort ships, and Camp Norway became a training base for the Royal Norwegian Navy.
J. J. Kinley sang the praises of those Norwegian sailors who could not return home to native land. During a speech at the House of Commons, he spoke of their honour, courage, and contributions to our country.
He was awarded The Haakon Cross of Liberation for his efforts in Camp Norway and later sat for the Queens-Lunenburg division in the Senate of Canada from 1945 to 1971.
Rightfully, wartime stories highlight courage and honour. Wartime heroes are often those who think of the greater good. These are the qualities of Lunenburg's youngest mayor and original owner of Kinley Drug Company, John James Kinley.
Hilda Russell
Curator of Interpretation
Fisheries Museum of the Atlantic