Welcome Aboard the Museum Vessels!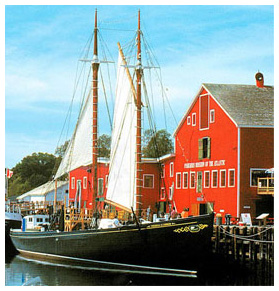 Theresa E. Connor
The flagship of the Fisheries Museum of the Atlantic, Theresa E. Connor is Canada's oldest saltbank schooner. Built in 1938 in Lunenburg, at the Smith and Rhuland Shipyard made famous as the birthplace of the original Bluenose, the vessel fished as a dory schooner for 25 years. During that time the crew used double (two-man) dories and fished with long trawl lines of baited hooks.
In the spring of 1963, Captain Harry Oxner attempted to take Theresa E. Connor on one last dory trip to the Banks. With a small crew, they sailed from Lunenburg to Newfoundland, but they were unable to find a sufficient number of men to make the trip. Technology had changed from hook and line to trawlers with huge nets. Fishermen were no longer willing to risk life and limb aboard dories. Theresa E. Connor slipped quietly back into port, the last of the once great fleet of Lunenburg salt bankers.
Visitors can go above deck, enjoying the look and feel of an authentic Grand Bank schooner. Retired fishermen and captains work as Heritage Interpreters aboard the vessel and area always pleased to have a chat about their fishing experiences. 
Cape Sable
Cape Sable is a steel-hulled side trawler, built in 1962 at the Boot-Leiden Shipyard, Leiden, Holland. The trawler is the style of vessel that eventually replaced dory schooners like the Museum's Theresa E. Connor. Cape Sable fished for National Sea Products Limited for twenty years and retired in 1982, having been replaced by larger stern trawlers. Unlike fishing schooners, which could be away from home for a month or more at a time, an average trip aboard Cape Sable lasted eight to twelve days. Total fishing capacity in the hold was 300,000 pounds of fish.
Wheelhouse and Captain's Cabin (Cape North)
At the end of one of the Museum's finger wharves, facing the harbour, is the wheelhouse of the side trawler Cape North, built in 1945. This vessel had been the first successful fresh fish trawler to fish from the port of Lunenburg.